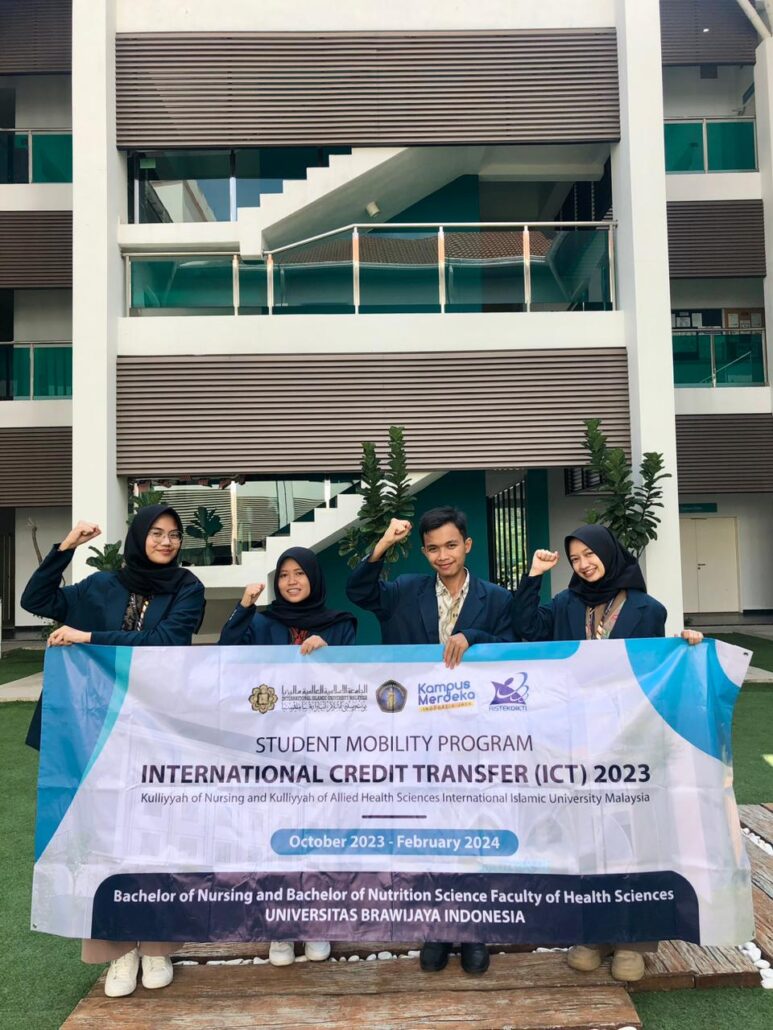 Fakultas Ilmu Kesehatan Universitas Brawijaya tengah menyelenggarakan International Credit Transfer tahun 2023. Kegiatan ini merupakan kegiatan student outbound yang diselenggarakan oleh Departemen Keperawatan dan Departemen Gizi, Fakultas Ilmu Kesehatan Universitas Brawijaya.
FIKES UB telah mengirimkan sebanyak 4 mahasiswa Sarjana Ilmu Gizi dan 4 mahasiswa Sarjana Keperawatan, untuk mengikuti program Transfer Kredit Internasional ini. Yang nantinya akan mengikuti proses dan rangkaian pembelajaran yang dilakukan dalam jangka waktu 1 (satu) semester atau terhitung 6 (enam) bulan dari bulan Oktober 2023 sampai dengan Maret 2024. Proses pembelajaran akan dilaksanakan secara luring di International Islamic University Malaysia pada dua fakultas, Kulliyyah of Nursing untuk mahasiswa Keperawatan dan Kulliyyah of Allied Health Sciences untuk mahasiswa gizi.
Tujuan dari program ini adalah Memberikan kesempatan kepada mahasiswa FIKES UB untuk mengetahui dan mengalami atmosfer akademik dengan universitas mitra luar negeri, Meningkatkan hard skills – soft skills serta pengembangan diri berkelanjutan mahasiswa FIKES UB , Meningkatkan pemahaman mahasiswa FIKES UB terhadap sosial budaya yang beragam pada universitas mitra luar negeri, Menguatkan jejaring kerjasama FIKES UB, serta Meningkatkan pemahaman program studi di FIKES UB yang terlibat mengenai sistem transfer kredit. Dengan demikian, maka Fakultas Ilmu Kesehatan akan mendukung secara aktif kegiatan ini.